Deep Cycle
Lion Deep Cycle Batteries are specifically designed and manufactured to meet the strenuous demands of today's Deep Cycle applications, requiring sustained power over extended periods. The comprehensive range of Lion Deep Cycle Batteries is available for applications across all Recreational, Marine, Commercial, Mobility and UPS Stand By markets.

Lion Deep Cycle Batteries are available in a number of different designs each specifically manufactured and specified to meet certain applications. The following battery designs each link into the Lion Deep Cycle Specification data chart which will further clarify the right battery for your Deep Cycle needs.
CONVENTIONAL LOW MAINTENANCE DEEP CYCLE BATTERIES
Designed for heavy duty cycling applications with a technologically advanced construction capable of withstanding repeated substantial discharges of up to 80% capacity. Vent plug accessibility allows for ongoing maintenance of electrolyte levels to achieve extended battery life. Conventional Deep Cycle batteries are manufactured with thicker plates and a denser Lead/Antimony material paste formula to add robustness for repeated cycling and to allow extended service life and increased cycling performance.

Suitable for Heavy Duty Recreational and 6, 8 and 12 volt Commercial applications including floor sweepers, scrubbers, pallet jacks, scissor lifts and other commercial equipment. Lion 880 and 870 are specifically designed for electric golf cart applications.

SEALED MAINTENANCE FREE (SMF) DEEP CYCLE BATTERIES (DUAL PURPOSE)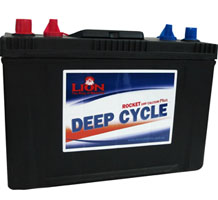 The Lion SMFDCM range of Dual Purpose Batteries offer users the flexibility of both Starting power and Cycling capability in the one battery. Premium SMF Deep Cycle Dual Purpose Batteries are suitable for users who are seeking more hours of cycling coupled with higher cranking through a larger capacity (AH) and higher CCA battery.

The SMFDCM range of Deep Cycle Dual Purpose batteries are Sealed Maintenance Free Calcium/Calcium design (no need to add water) with inbuilt ceramic disc flame arrestors to protect against accidental battery explosion from an external spark. The Patented liquid gas separator enhances the Maintenance Free characteristics of the battery while the patented Hot Melt adhesive provides excellent anti-vibration protection in demanding applications.

Suitable for a wide range of Recreational Dual Purpose applications including 4WD's and RV's, caravanning, camping, accessory power and lighting for boating purposes. SMFDCM Dual Purpose batteries are the preferred Deep Cycle for under bonnet 4WD dual battery systems and other charge rate sensitive environments.
ABSORBED GLASS MAT (AGM) DEEP CYCLE BATTERIES (DUAL PURPOSE)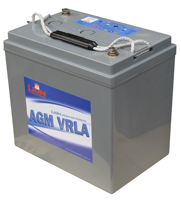 Absorbed Glass Mat battery technology allows for a fully sealed battery design with active electrolyte held in an absorbed state between the plates and immobilised by a very fine fibreglass mat. The outcome is a Dual Purpose battery with enhanced discharge and recharge efficiency, high resistance against vibration and leak proof, non gassing benefits for safety, installation flexibility and peace of mind.

The Lion AGM range of batteries is available in both standard and premium ranges. The standard range offers a quality battery suitable for controlled environments such as selected Commercial and Stand By applications and offers extended life and performance in heavy duty cycling environments.

The Premium Lion 'EV' range of AGM Dual Purpose batteries offers users the ultimate in leading AGM technology and design across a full range of sizes and capacities to meet all Recreational applications. Ideal for Dual Purpose starting and Deep Cycle requirements in 4WD, Caravanning, Camping, Boating and other recreational uses.

Lion Premium AGM batteries also meet the needs of mobility applications including wheelchairs, mobility scooters, medical equipment and related lifestyle mobility aids.

GELLED ELECTROLYTE (GEL) DEEP CYCLE BATTERIES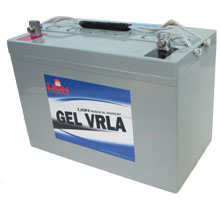 Lion Gelled Electrolyte Deep Cycle Batteries represent the ultimate in Deep Cycle technology. Designed specifically for demanding Deep Cycle applications, the integrity of Lion Gel Batteries is maintained even under extreme conditions.

Gel technology allows for a fully sealed battery design with active electrolyte held in a gelified state with internal recombination of more than 99% of internally produced gases. The battery is safe to use in gas sensitive applications such as Motorhomes, boats and mobility equipment and can be left in a fully discharged state without any loss of battery capacity if not recharged immediately.

Lion Gel Deep Cycle Batteries are ideal for repeated cycling use and offer excellent performance over long discharges.